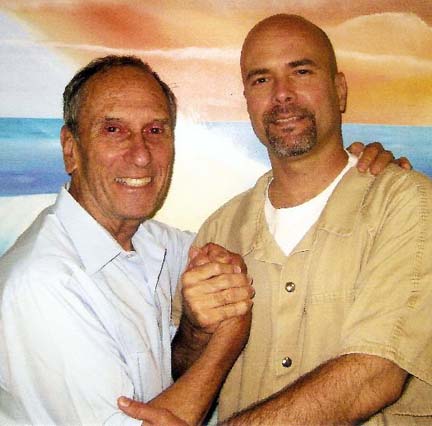 Saul Landau and Gerardo Hernandez


Saul Landau Presente!
Social Justice Fighter, Revolutionary Filmmaker and Friend dies

A Reflection from the Free the Cuban 5 Committee-Vancouver

---
It is with heavy hearts that we receive the news that the world has lost this steadfast fighter for humanity, Saul Landau. On Monday September 9th, Saul Landau died after a long battle with cancer, surrounded by his family.

While geography and equally busy schedules have mostly kept us physically apart, activists in the Free the Cuban 5 Committee Vancouver have had a special place in our hearts for Saul Landau. After years of knowing Saul's documentary films and work, we were first introduced to him by the former Cuban Ambassador to Canada, Teresita Vicente, at the Vancouver International Film Festival in 2011. Since then we have regarded Saul Landau as a friend, co-fighter and teacher.

At a time like this one reflects on the first meetings and memories that establish the bonds between people. For activists in Vancouver, we had the honour of spending time with Saul and learning from him when he came to present at the Vancouver International Film Festival for Peace in 2011. We will always remember the Master Class he gave at the festival – sharing his life, experiences, and knowledge of revolutionary filmmaking in a way that captured everyone's full attention. We also remember him rolling up his sleeves and joining in to help serve food at the festival, during the busiest lunch hour rush between films, even after the Master Class!

We appreciated all the other opportunities we had to talk with Saul further about life and politics, either on the phone or in person. It was a real pleasure to again spend time with Saul in Washington DC during the first 5 Days for the Cuban 5 in 2012. Saul's initiative and leadership in the fight for our 5 Heroes' freedom from US dungeons has brought the case to places it had never been able to go – especially within the US itself. Saul Landau even somehow managed to get the Miami mafia themselves on tape admitting to their own crimes!

Around the world, anyone who has been touched by Saul Landau's great life will remember him in many ways - as a revolutionary filmmaker, scholar, author, teacher, father, and we are sure more. As a trusted friend of revolutionary Cuba for over half acentury, we have a lot to learn from the path he took. We know Ricardo Alarcon was not speaking lightly when he said Saul Landau is a "a real combatant with no other weapons than his talent and intellectual integrity."

Saul Landau was not one for exaggeration, but with all honesty we can say that we will continue to use his work and example in the fight for a better world we all know is possible. While a long and difficult road lies ahead, we have Saul Landau's example to help show us that we can keep fighting "in the belly of the beast" and beyond.

Saul Landau, Presente!